We host courses, workshops, and groups to come and learn with us in Thai and English on self- reliant living, organic gardening, community living, natural building and natural health throughout the year.
English courses hosted in 2022:
GET GROUNDED
November 9-13 at Pun Pun Yasothorn, Northeastern Thailand
December 2-6 At Pun Pun Mae Taeng, Northern Thailand
Pun Pun will be hosting two upcoming Get Grounded courses.
The first one will be hosted at our satellite farm and center in Northeastern Thailand from November 9-13. It is called Pun Pun Yasothorn and is Jon Jandai's home village. We will give you details on how to get here but know it is a separate location from the farm in Mae Taeng. Please contact punpun.yasothon@gmail.com to register for this course.
The second one will be hosted at our center Pun Pun in Mae Taeng from December 2-6th.
Course is taught in English languageOur Get Grounded course is a chance for people to learn the basic techniques we use on the farm and will give you a taste for how do the different things we practice here. This will include an introduction to gardening, making garden beds and composting, introduction to earthen building with adobe including making bricks and laying them, cooking from the garden, and making some basic natural products.

It's a chance to spend some time at the farm in community and see what you like and can take away for use in your home.

Techniques and Topics:

The whole workshop will be very hands-on and focus on allowing participants to experience every topic themselves.
Organic Gardening including how to prepare garden beds, make seedlings and compost, and focus on the practice of seed saving.
Harvesting and using produce from the garden in the kitchen including cooking , fermenting, and making products from the garden.
Introduction to natural building techniques. Will cover selecting soil, making adobe bricks, how to lay bricks, making and applying homemade earthen plaster and making and applying clay paints.
Some simple appropriate technology will be covered as well that we use at the farm for filtering drinking water and reducing our propane consumption in cooking/hot water, etc.
It is an opportunity to learn through doing where participants will learn the techniques we use while actively applying them to projects at the farm in a relaxed, fun atmosphere. It is also a chance to live with other like-minded Thai and international folks and get a taste of community living on the farm.
Community living:
Evening activities and exchanges will also be included. A large aspect of the course also includes the experience of living in community with other participants as well as entering the community of members living at Pun Pun. We have found this element to be a major contributor in the experience of the course for participants.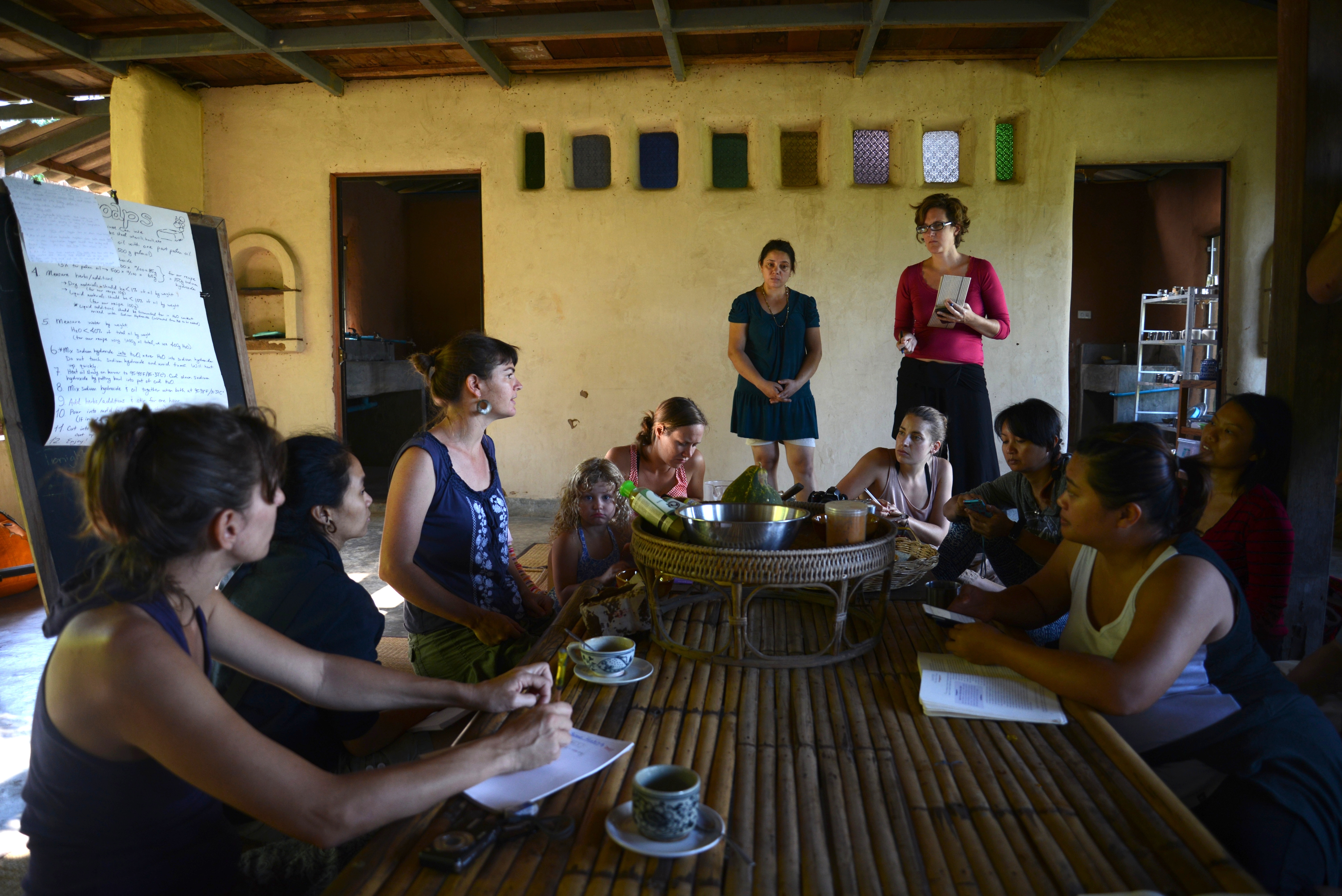 LOGISTICS PERTAINING TO THE COURSE
General Schedule
Morning and afternoon sessions will be held with an extended break after lunch in the hot part of the day. We will start at lunch on the first day of the course and finish after lunch on the last day.
The Project
The course will be held at our organic farm, seed center, and sustainable living learning center- either in Yasothon, northeastern Thailand or Mae Taeng, northern Thailand. We started this center to work to create seed centers to preserve our food biodiversity, grow food organically for ourselves in community and for those who come to stay with us, and host trainings and workshops on ways to convert to more self-reliant, sustainable ways of living.
Teaching team
Jon Jandai and various community members from Pun Pun farm
Living situation
We will provide simple accommodation in one of Pun Pun's earthen or bamboo guesthouses or dorms. A thin futon mat, blanket, sheet, pillow, and mosquito net will be provided. Accommodation is single rooms, shared rooms and dorms. All accommodation is in close proximity to each other. Outdoor toilets and showers are close to the guesthouses.
All meals will be shared and eaten in the communal kitchen. Vegetarian and fish options will be available and we will try to use the most organic vegetables as possible from the farm. Food will be simple Thai food with brown rice. We try to use as much of our own produce and other seasonally available produce as possible so we tend to focus on a primarily vegetable and whole grain diet with added protein from eggs, fish, or tofu.
7,000 baht/person. This fee includes all food during the course, accommodation and instruction. All proceeds go towards supporting Pun Pun community to grow and continue with our seed center and outreach work.
Registration
1) For the November course, email your participant survey to punpun.yasothon@gmail.com. For the December course, email your participant survey to punpuncourses@gmail.com.
2) Once you have sent your participant survey and have been confirmed, a 3,500 baht non-refundable deposit is due to secure your spot. Please understand we cannot hold your spot until we receive your deposit.
We ask you transfer this to our Thai account of which we will send you the details. The remainder will be collected on the first day of the course in Thai baht or if you chose you may transfer the whole amount beforehand.
Pun Pun Participant Survey:
Please write us a short letter introducing yourself. Please include where you're from and a bit on why you want to join the course, what you are hoping to get out of it and how you hope to use it later. This will help us to prepare the program for your needs.
Please also include any special dietary needs causing for any adjustments from the food offered as specified above. Please wait for acceptance before making travel arrangements.
For more information on upcoming Thai courses see our Thai website or visit our facebook page at Pun Pun Organic Farm. For more info on Thai courses, contact punpun.farm@gmail.com to register.