Workshop/Events
We host courses, workshops, and internship in Thai and English on self reliant living, organic gardening, community living, natural building, and natural health. For upcoming courses follow the links below:
Women's Natural Building Workshop

May 14-22nd, 2013
This will be an opportunity for women to come together to build a natural structure, building on the experience of other woman builders.
We will be hosting the workshop at IWP (International Women's Partnership for Peace and Justice) in Mae Rim, just north of Chiang Mai, northern Thailand.  Course will be in English and Thai.
Thai Self Reliance Short Courses

These long-weekend courses are designed for people to be able to get a taste of the things we do at the farm in a short amount of time including gardening, building, and sustainable living techniques. These are held in Thai language regularly throughout the year. 

For more information contact us at punpun.farm@gmail.com.  We also post these on our facebook site Pun Pun Organic Farm.

5-Day Self Reliance Crash Course in English
September 14-18, 2012
This course will be a crash course in many of the techniques we use on the farm including organic gardening, earthen building, natural health and homemade products.  These are a spin-off of our Thai self-reliant courses, this one hosted in English.
Shelter Me Course

Nov 18-Dec 13, 2012
The shelter me course will be a month-long immersion in hands-on adobe building techniques.  We will work on a structure together as a group, going through the stages of construction through getting experience working together as a group.
Food Matters Course
January 11-21, 2013
This 10-day course will focus on ways to grow, plant, preserve, prepare and understand our food and will be a combination of organic gardening techniques, appropriate technology, and self-reliant living techniques.
Cooking Courses
October 16-19 & January 28-31
In the course we will make Thai favourites as well as farm/ seasonal specialties, homemade tofu and soy milk as well as a Thai Curry paste from scratch. Steam sticky rice and boil brown rice to perfection.  Learning about Thai people's traditions                                                                               of using food as medicine is also covered.
Thai Internship Course
February 3-24th, 2013
We will be offering another 3-week Thai internship this year. This course will be in Thai language only and will cover many aspects from both the Food Matters course and Shelter Me course. Please email punpun.farm@gmail.com for details until we get it up on our Thai website.
Karen School Building Gathering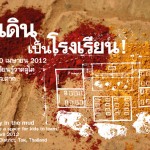 April 2012 we were involved in working with a villager project close to the Burmese border, helping them to build a much needed school using adobe.  They currently look after 50 children and they expect 100 children soon.  We were able to bring together 40+ participants to build 2 classrooms and the community continues on to build more with their skills.  We hope to do a continuation on a similar project next April and will post details here when decided on.  Click Learn More to see more about last year's project.